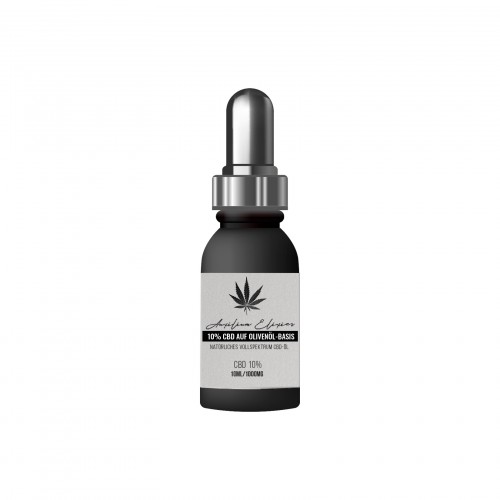 Auxilium Elixir - 10% CBD - based on olive oil
art. no.:

777009
scaled prices
1 PCs.

£58.20 ( 633.5 GBP / 100 ml )
633.5 GBP / 100 ml

Ex Tax: £50.18 shipping
Shipping weight per piece: 10.00ml
10% CBD ON OLIVE OIL BASIS
AREAS OF APPLICATION:
As a natural remedy for pain therapy
Against the symptoms of arthritis and arthrosis
As a natural remedy against depression and burnout
Against anxiety and panic attacks
For epilepsy or behavioural disorders
For the relief of phobias
Cannabidiol is becoming more and more popular. Users hope that taking CBD oil will have numerous positive effects on their health and report more and more good results in the treatment of numerous complaints.
Our Auxilium Elixir range takes advantage of the positive properties of cannabidiol and combines them in high-quality CBD oils, which can also make a valuable contribution to your health and well-being. But convince yourself and test our high quality Auxilium Elixir CBD Oil now.
What is CBD Oil?
Cannabidiol (CBD) is one of more than 100 cannabinoids naturally found in hemp plants. In addition to tetrahydrocannabinol (THC), CBD is one of the best-known active ingredients of hemp and is enjoying increasing popularity due to its numerous possible applications.
However, there is one decisive difference. While THC is known to have a psychoactive effect, taking CBD does not cause intoxication. The sale of products containing CBD is therefore just as legal as their consumption, as long as their THC content does not exceed the legal limits.
CBD oil is not hemp oil
The terms CBD oil and hemp oil are often used synonymously. However, this is wrong because they are two completely different products.
Hemp oil is a normal edible oil obtained from the seeds of hemp plants (usually by cold pressing). Its content of CBD is extremely low, which is why it does not have the same positive effects on health and well-being.
CBD oil, on the other hand, is an extract obtained from the leaves and flowers of hemp plants and diluted with olive oil, linseed oil or another edible oil for easier consumption. The finished CBD oil is taken in low doses and can help to address a wide range of health problems.
High efficacy thanks to CO2 extraction processes
For the production of CBD oil different production processes are possible. We have opted for our Auxilium Elixir for the so-called CO2 extraction process. In this method, carbon dioxide is used as an extraction agent to extract the CBD and other substances from the hemp plant.
The CO2 extraction process offers two decisive advantages. Firstly, carbon dioxide is non-toxic and can be removed from the CBD extract without residue at the end of production by reducing the pressure. On the other hand, the CO2 extraction also guarantees a particularly gentle production process, whereby the finished product contains not only CBD but also a large number of other valuable substances from the hemp plant, such as flavonoids and other cannabinoids.
Our CBD products are therefore free of residues and solvents and offer you optimum efficacy, which can benefit you in a wide range of applications.
CBD 10% based on olive oil is a purely natural food supplement with ten percent CBD oil. Cannabidiol (CBD) is a cannabinoid which proves to be an effective remedy against anxiety, behavioural disorders and psychological problems.
Unlike THC, CBD has no psychoactive effect.
CONTENT MATERIAL:
Organic olive oil, 10% Co2 hemp
Full extract decarboxylated, THC <0.2%
LABORANALYSE:
Crude protein (<0.1%), crude fat (approx. 90%), crude fibre (<0.1%), crude ash (<0.1%).
STORAGE:
Store tightly closed, dry, protected from light, cool, but not in refrigerator.
Store out of the reach of children.
RECOMMENDED DOSAGE:
General: 1-2 times daily 1 drop per 10 kg body weight. In case of acute symptoms, 2 drops per 10 kg body weight.