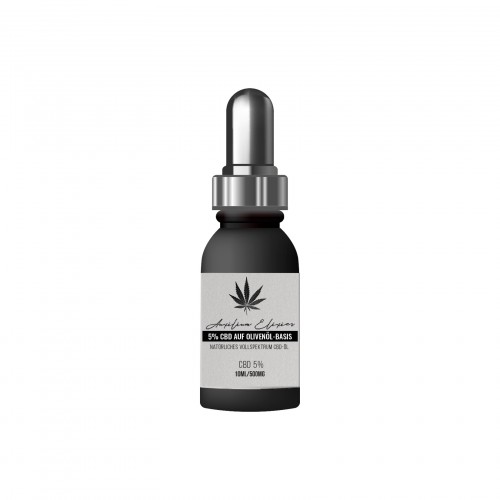 Auxilium Elixir - 5% CBD - based on olive oil
art. no.:

777007
scaled prices
1 PCs.

£31.34 ( 341.1 GBP / 100 ml )
341.1 GBP / 100 ml

Ex Tax: £27.01 shipping
Shipping weight per piece: 10.00ml
5% CBD BASED ON OLIVE OIL
Possible areas of application for CBD oil:
Support of the immune system
Promotion of healthy digestion
CBD oil has a calming and relaxing effect
Cannabidiol reduces anxiety and stress
Improving the functioning of the CNS
Alleviation of skin problems
Successful use in pain therapy
For sleep problems
To alleviate inflammation
Relieving problems with arthritis
As a natural remedy against nausea
Strengthening the cardiovascular system
Against age-related complaints such as glaucoma
What is cannabidiol (CBD)?
Apart from tetrahydrocannabinol (short form: THC), cannabidiol (short form: CBD) is one of the best-known active ingredients contained in hemp plants. Unlike THC, however, cannabidiol has no intoxicating effect and is not subject to any legal restrictions.
Even though many people still think that hemp and marijuana are the same, hemp is a completely normal crop that is used in various areas. Accordingly, the use of CBD as one of the active ingredients of the hemp plant is neither prescription nor illegal.
CBD oil is not the same as hemp oil
Just as sunflower oil is made from the seeds of the sunflower, hemp oil is made from the seeds of the hemp plant and is mainly used as normal cooking oil. CBD, on the other hand, is extracted from the flowers and leaves of the female hemp plant.
The extraction of cannabidiol takes place in several steps. First, the CBD contained in the plant is extracted using the CO2 extraction process. This is then converted into CBD by heating.
In the final step, the CBD extract is diluted with an oil for easier application. In addition to hemp seed oil, coconut and rapeseed oil or olive oil, as in the case of the Bellfor Elixir series, are used here.
Thanks to the CO2 extraction process, our CBD oil contains not only cannabidiol but also other cannabinoids such as cannabinol, flavonoids, vitamins and minerals.
Most researchers believe that a combination of the hemp plant's various active ingredients is more effective than isolated CBD. For this reason, we have given preference to this CBD oil over CBD isolate for the Bellfor Elixir range.
This is what makes the Bellfor Elixir range so special
As with all products in our range, we attach great importance to purely natural raw materials and the gentlest possible processing of our CBD drops. In this way, we can ensure that the valuable ingredients of CBD oil are preserved in the best possible way and can fully unfold their positive effect.
Our CBD drops are suitable for a wide range of applications.
CONTENT MATERIAL:
Organic olive oil, 5% Co2 hemp
Full extract decarboxylated, THC <0.2%
LABORANALYSE:
Crude protein (<0.1%), crude fat (approx. 95%), crude fibre (<0.1%), crude ash (<0.1%).
STORAGE:
Store tightly closed, dry, protected from light, cool, but not in refrigerator.
Store out of the reach of children.
RECOMMENDED DOSAGE:
General: 1-2 times daily 1 drop per 10 kg body weight. In case of acute symptoms, 2 drops per 10 kg body weight.