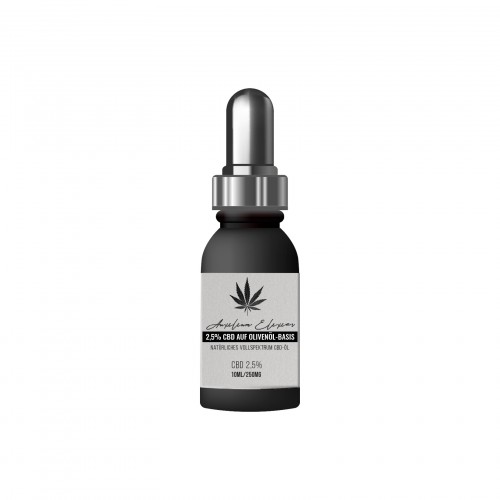 Auxilium Elixir - 2,5% CBD - based on olive oil
art. no.:

777008
scaled prices
1 PCs.

£22.38 ( 243.6 GBP / 100 ml )
243.6 GBP / 100 ml

Ex Tax: £19.29 shipping
Shipping weight per piece: 10.00ml
2,5% CBD - based on olive oil
Some applications of Auxilium Elixier CBD Oil 2.5% at a glance:
To promote metabolism
For excitement and nervousness
To support the cardiovascular system
For anxiety and panic attacks
To strengthen the hormonal balance
To maintain health and well-being
To increase performance
The non-psychoactive cannabinoid CBD has been known for some time that its use appears to have a positive effect on many physical and psychological conditions.
Auxilium Elixier CBD Oil 2.5% gives you the opportunity to benefit from it and to rely on a particularly high-quality nutritional supplement with gently produced cannabidiol.
Why Auxilium Elixir CBD Oil 2.5% is a good choice
Auxilium Elixir with 2.5% CBD contains only high-quality ingredients, so that an optimal compatibility of the completely natural food supplement is guaranteed.
CBD oil from CO2 extraction
The cannabidiol contained in our CBD oil was obtained using the CO2 extraction process. This method is considered to be particularly gentle. It enables an end product that is free of solvent residues.
In addition, the CBD oil produced in this way contains 2.5 percent cannabidiol thanks to CO2 extraction, as well as CBD, numerous other valuable cannabinoids and other plant substances. Scientists assume that such a full CBD extract could be significantly more effective than CBD isolates.
Olive oil in organic quality
In order to achieve the desired CBD content of 2.5% in our Auxilium Elixir, we dilute the cannabidiol extract with organic quality olive oil. So you can be sure that we do not compromise on the quality of our raw materials.
Low THC content
In contrast to CBD, the cannabinoid THC has a psychoactive effect. CBD products for sale may therefore contain a maximum of 0.2% THC. In our Auxilium Elixir Oil with 2.5% CBD this is of course the case. Noise caused by ingestion can therefore be excluded.
CBD oil proves to be extremely versatile
CBD are attributed to a variety of positive health effects. There is no doubt that research is still in its infancy. However, there are already countless studies that have looked into the effects of cannabidiol and, in some cases, achieved very promising results.
Accordingly, the possible fields of application of CBD oil are manifold, which is also suggested by the numerous field reports.
CONTENT MATERIAL:
Organic olive oil, 2,5% Co2 hemp
Full extract decarboxylated, THC <0.2%
LABORANALYSE:
Crude protein (< 0.1%), crude fat (approx. 97.5%), crude fibre (< 0.1%), crude ash (< 0.1%).
STORAGE:
Tightly closed, dry, protected from light, store in a cool place, but not in the refrigerator.
Out of the reach of children in a warehouse.
DOSAGE RECOMMENDATION:
General: 1-2 times a day 1 drop per 2.5 kg body weight. In case of acute symptoms 2 drops per 2.5 kg body weight.